YOU NEVER KNOW THE IMPACT YOU WILL MAKE!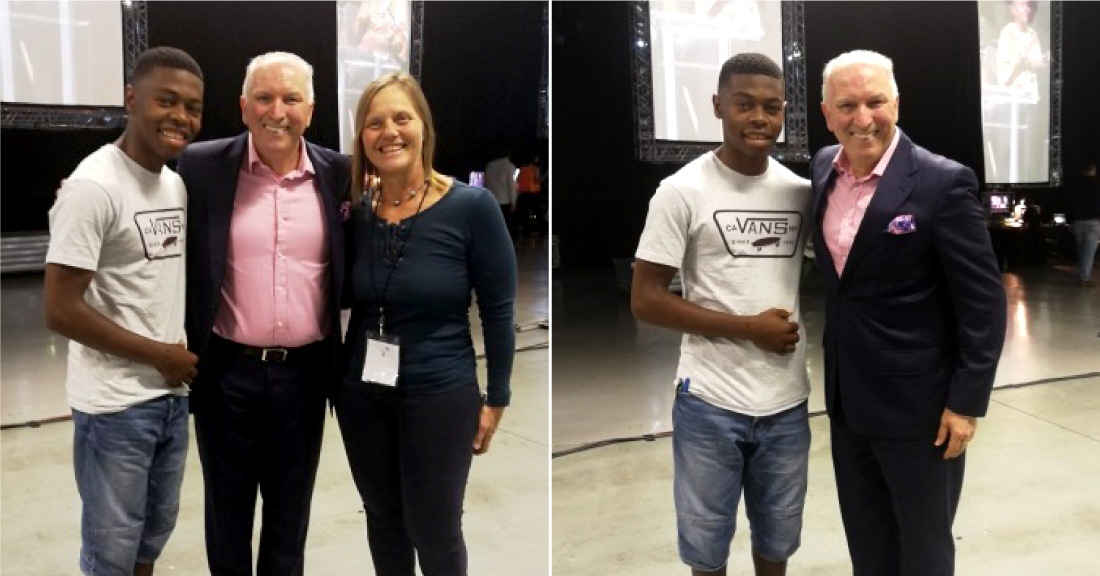 Photo above: Keletso, Keith, Leona
I was recently in Johannesburg, South Africa to present to 4,000 people over two days. It was an exciting trip and the presentations were really well received. However, I was overwhelmed with joy when I was fortunate to meet this extraordinary lady, Leona, and this remarkable 21-year-old young man, Keletso. Leona runs a program for disadvantaged youth through the Cuddle Trust, this is where she first met Keletso.
Leona shared Keletso's story with me …
---
"Keletso was 13 years old when he met volunteers from the Cuddle Trust—a trust that focuses on education and empowerment in the community. Keletso was staying with his grandmother in a two bedroom house with six other siblings. Both his parents had remarried and neither parent wanted children from previous marriages. Often the kids would only have one meal a day, take turns to sleep on a bed and have to walk long distances to attend school. Yet Keletso was hungry to learn and not let himself be defined by his current circumstances. He supported many of the activities and courses presented by the Cuddle Trust and showed a willing to work hard and apply what he learnt. One of the courses was based on Keith Abraham's goal setting workbook. Through this he was encouraged to set goals and dream big.
Thanks Keith. You took the time to write the book, Cuddle Trust had the privilege of sharing the information, and Keletso the courage and grit to implement what he had learnt. One of his first dreams he wrote at age 13—to see the sea and Cape Town—came true at the beginning of this year at the age of 20. He is now an educator in Cape Town and also the first black male Montessori Director in the ages 3-6 phase, having overcome many challenges because of his vision and belief created by seeing and experiencing that dreams do come true … and goals achieved … when written down."
---
EVERYONE YOU CONNECT WITH, YOU WILL IMPACT.
---
I make no claim to any of his success. That was driven by Keletso's desire and dreams and assisted by the love of people like Leona who decided to make a difference. My book and content was just one cog in the big wheel. I am so grateful I was able to play a small part in his journey. As I often say, you will never know the impact you will make, the people you will assist and when you will make the difference, but know this, everyone you connect with, you will impact!
---
If you would like to master the art of goal achievement, I'm holding a one day workshop in Brisbane, 19th January 2019 to help you achieve just that! Set your 2019 up to be your best year ever. Inspired … The Art Of Achieving Your Biggest Goals! Visit this page for more information.
Comments