THE 4 PARTS TO WEEKLY PLANNING
I'd like to share with you how I plan my week and show you my weekly planning sheet. This is something I use every week. I'm a believer that a great week starts Sunday night—not that I'm going to be working on Sunday night—but I take about five to ten minutes out to plan out my week.
I plan my week out into four key areas:
PROJECTS
What are the large projects that I'm working on, either personally or professionally?
PRIORITIES
What are my key priorities in my personal life or my professional life? These are the priorities that I need to get done to be able to move the business forward or to honour a promise.
PIPELINE
What are the pipeline activities? For me it's about getting clients in the pipeline, through the pipeline, out the other end of the pipeline, whether it's for a presentation or for a programme or something that I might be working on as a larger contract.
PERSONAL
Then of course, personal tasks. These are the things that I need to do, the times that I'm going to go to the gym or the focus I'm going to have in regards to my diet or how many times I'm going to meditate, those personal rituals.
Let me give you a couple of other areas if you're not a sales professional. It could be promises that you've made for people. It could be around personal rituals that you want to complete in the week ahead. It could be about a project or a programme that you're working on. It could be people who you need to connect with or you need to mentor or coach or talk to.
---
I GET REALLY FRUSTRATED IF I DON'T FEEL LIKE I'M MAKING PROGRESS.
---
Download this weekly planning sheet, you can adjust it or modify it, but it's a great way to really get yourself on the front foot and feel like you're making progress. I don't know about you, but I get really frustrated if I don't feel like I'm making progress. This is one way to be able to tick the things off the list and feel like you're moving towards what you want and moving away from what you don't want!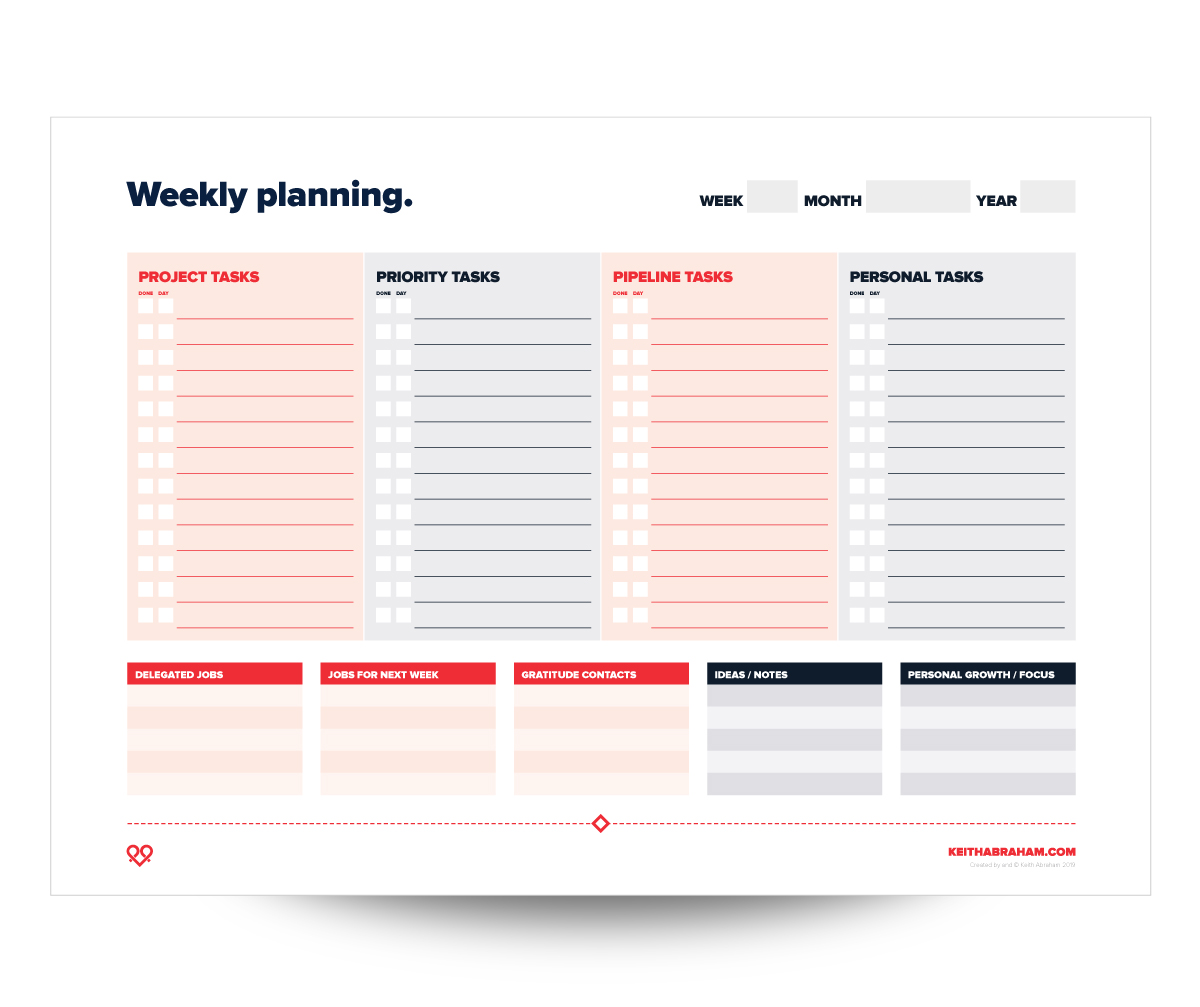 Comments