HOW TO CREATE A UNIQUE POINT OF DIFFERENCE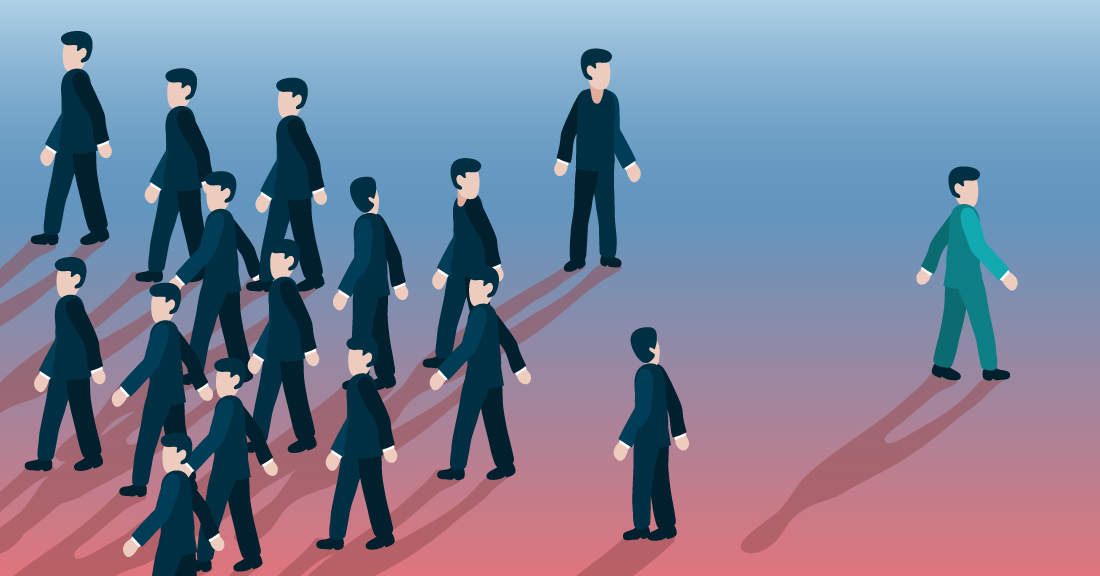 In today's marketplace our customers have so many choices on where to get their products or services from, it's no wonder people get confused. One of your goals in business should be to create a point of difference that makes you memorable, unique and drives a wedge between your business and your competitors to make the choice an easy one for your customers.
---
IF YOUR CUSTOMER CANNOT DIFFERENTIATE BETWEEN YOU AND YOUR COMPETITOR, THEY WILL MAKE A CHOICE BASED ON PRICE AND NOT ON VALUE.
---
Own the mountain in your marketplace
What happens is we go into business with the belief that our product is better than our competitors for this reason and for that reason. But if the truth is known, from our customers point of view, there is no point of difference. The reason for that is we have positioned ourselves on the same mountain in our marketplace as our competitors.
This is the same mountain we are all trying to climb so eventually we arrive at the summit. The challenge is creating a new mountain for our businesses to own. I believe there are two mountains to choose from 'the mass market mountain' or 'the niche market mountain'. On the mass market mountain you compete with everyone and it is getting more and more difficult to create a point of real difference to set you apart.
On the niche market mountain you can make it your own. You can create it, dominate it and make it very difficult for your competitors to climb it. Let me explain this concept visually …
Competing on the Mass Market Mountain:
Many competitors to be compared with always.
Hard to create a real point of difference.
Customers focus on the just product.
The market is very price sensitive.
Hard to dominate for a long period of time.


---
DETERMINE THE MOUNTAIN YOU WANT TO OWN AND DOMINATE. BOTH WILL REQUIRE A DIFFERENT STRATEGY FOR YOUR BUSINESS TO PURSUE.
---
Owning Your Own Mountain in the Market:
Few competitors to be compared with.
Easy to create a point of difference.
You can focus on your area of expertise.
Your market is not as price sensitive.
Easy to dominate to build your brand loyalty.
Now, if your products are the same as your competitors you may wish to create a point of difference by targeting a specific niche market that is made up of a demographic group you relate best to or who have a need that is not currently being catered for at the moment.
It may be looking at a specific type of price shopper in your marketplace, one at the top end of the market who doesn't mind paying extra for a superior level of service they receive from you, or it could be the price conscious shopper who is just looking for a deal. The key now is to identify the type of mountain you want to own in your marketplace.
Look at some of the products in our international marketplace that have created a point of difference. Volvo has created a point of difference around its safety features, Bang & Olufsen has created a unique point of difference with their compact, sleek looking quality hi-fi equipment catering for the music listening enthusiast. When you think of fine writing instruments the company Waterman comes to mind. Their pens do the same job as any other pen, but the company has created a point of difference by their design, style, reputation and reliability. All of these companies have created their own unique point of difference or, in other words, they own their specific mountain in their marketplace.
---
Sending the right messages into your marketplace
Everything you do sends a message into your marketplace and to your customers. How does your marketplace perceive you and your product? What are you famous for in your customer's eyes? Here are a few questions to get you thinking about the unique position you are looking to create:
What messages are you sending into your marketplace?
What is your point of difference that sets you apart?
What are you famous for in your marketplace?
What is the perfect niche market for your business?
Who do you love to deal with in your business?
How would your customers best describe you, your people, your product and your service?
---
Identify your customer niche
One of the best ways to identify your niche is to paint a picture of the perfect customer for your business. Which customers do you love to deal with? Who are the most profitable and professional to work with? An easy way to do this is to look at your top 20% of customers and identify what they all have in common; it could be a common need or amount of money they spend with you each month; where they live; or how they came to use your products and services in the first place.
Once you have done this you can start to develop a strategy on how you are going to get more lookalike customers. It will make a big difference in how you market to them.
History is 20/20 vision and a great information source for your future, only if you use it to your advantage.
---
EVERY MISTAKE IS A LEARNING OPPORTUNITY … IF YOU LEARN FROM IT.
---
The buying influences that impact on your customers
Your customers are influenced by a number of different buying triggers. These triggers can be used to determine how you identify your top 20% of customers. Here are some of the reasons why your customers may buy your product.
People buy the product because it costs less.
People buy the product because it is easy to use or obtain.
People buy the product because someone has referred them to that product.
People buy the product because it is a recognised brand name.
People buy the product because of the additional value they get from it.
People buy the product because it will solve a challenge or meet a specific need.
People buy the product because they trust and respect the person selling it to them.
People buy the product because of results they have received previously.
People buy the product because they get more for their money.
People buy the product because it is a low risk purchase.
People buy for their reasons, not for your reasons. Your goal in business is to discover those reasons and make your product appealing to suit. Once you understand your customer base and start to target like-minded customers you will see buying trends appear in your customer base. Monitor these trends and design special product offers and your marketing campaign around them.
---
First published in Keith's best-selling book, Creating Loyal Profitable Customers. For more information on how Keith can assist to create passionate people, leaders and customers in your business contact today.
Comments