12 GOAL FOCUSING TECHNIQUES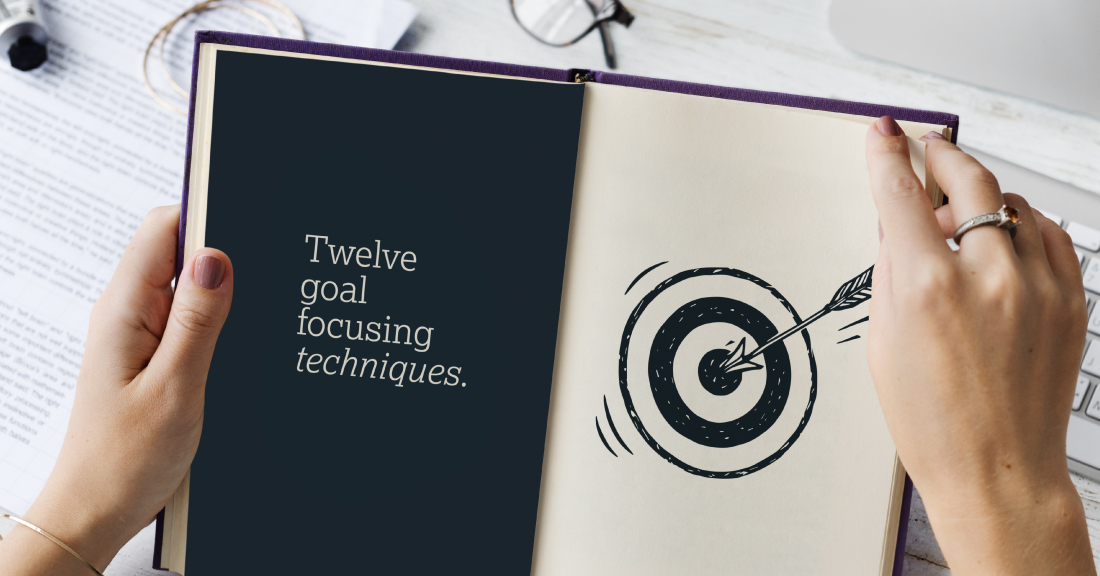 As soon as you set a goal, you're challenged by distractions. The 'noise' of things that don't count in the big picture of what you are endeavouring to achieve. There are many ways to remain focused on your important goals and the things that count in your life. Below I share my 12 goal focusing techniques, classified into three key learning styles: visual, auditory and kinaesthetic. Time-proven strategies on how you can remain focused on your key goals. Align the goal focusing technique with your preferred learning style as the formula for focus.
---
GOAL FOCUSING TECHNIQUES: VISUAL
If your preferred learning and recall style is visual, then these techniques would best suit you:
Create a goal board. Pin pictures of the goals you want to achieve onto a corkboard or whiteboard, and place it somewhere you can see it, review it and focus on it, often.
Visualise yourself achieving. Take time out on a regular basis to visualise yourself achieving your goals. It only takes a couple of minutes each day. Picture yourself achieving the successful outcome.
Create a visual presentation. Use your smartphone, tablet or computer to create a presentation of the goals you want to achieve in the year ahead or in your lifetime. Think of it as an electronic goal board. Let's face it, these devices are often your closest companions.
Create and publish a photo book. Many people who have attended our Passionate Performance workshops use this technique. There is any number of software programs online to help you upload photos, add captions and even print off a hardcopy goal book.
---
GOAL FOCUSING TECHNIQUES: AUDITORY
If your preferred learning and recall style is auditory, then you will relate easier to these techniques:
Use a goal card. Write your goals on a card and read your goal card every day. Put it in your wallet or beside the bed, stick it on the bathroom mirror or on the dashboard of your car. The key is to read it daily. I've created a double sided My Goals / Daily Rituals card which you can get here.
Discuss your goals with a mentor. Verbally sharing your goals with a mentor or someone you trust is a great way to gain clarity and focus. Share with them your goal, your thoughts about how you are going to achieve that goal and any challenges you think you may have in the pursuit of that goal.
Be still and listen to your intuition. Spend a few minutes of quiet time each day, closing your eyes and focusing on one goal. This will bring up thoughts, ideas and strategies. It is an opportunity for you to listen to your inner voice. Note down your ideas and act on them: these are often the ones that will give you the most traction.
Listen to interviews. Research online others who have reached similar goals to those you want to achieve. Most likely there will be podcast available that describe these people's experiences—how they did it, what they would do differently in the future and handy tips.
---
GOAL FOCUSING TECHNIQUES: KINAESTHETIC
If your preferred learning and recall style is kinaesthetic, then you may find these goal focusing techniques most effective:
Meet with inspiring people. Take the time to meet with people who have achieved similar goals. Their story will inspire and encourage you to keep working towards your goals.
Experience goal activities. Testing out or gaining some experience of your goals is a wonderful way to connect with them. For example, if you decide to live in a certain area, drive around that area and visit some house auctions. If you want to study at a certain university, go and do a short course there first.
Read inspirational stories. Put yourself in inspirational environments and submerging yourself in the encouraging stories of people who have already cut a path to the types of goals you want to achieve.
Take action. There is no better feeling than that of making progress. Do something practical each day that brings you closer to your goals.
---
IF YOU WANT TO ACHIEVE ALL THAT YOU ARE CAPABLE OF, FOCUS IS THE CORE SKILL YOU NEED AS PART OF YOUR DNA.
---
Share with me your goal focusing techniques! On Facebook or Linked In.
Comments