10 x 10 x 10 SALES GROWTH FORMULA
In the video above, I share my 10 x 10 x 10 Sales Growth Formula.
If you're a sales professional, thinking about getting into sales, or if you own your own business, I want to give you the technique I believe is fantastic for focusing your attention on where you need to spend your time. What's the 10 x 10 x 10 you ask? What I've worked out is, as a sales professional, you need to concentrate your energy and effort and that's where the 10 x formula comes into play.
Download this worksheet and write down your Top 10 Customers. Now, you need to identify who these ten are because you don't want to lose them! If they are your Top 10, guaranteed they are on somebody else's Top 10 Prospect list.
Here's the second ten. Who are the Top 10 Customers who already do business with you? Let's say they are a C or B customer, but really they've got the potential to be an A. Write down that list of ten.
For the final ten, who are the Top 10 Prospects you would love to do business with? This is about concentrating your effort, your energy and your attention on where you're going to get the most amount of growth in your business.
Once you've listed them down, here's what I want you to think about in your list of Top 10 Clients—your platinum clients. What do you need to do to continue to strengthen the relationship with them? Because often what happens is that we neglect our best clients. Make sure you spend your time, your energy and effort in reconnecting with this ten.
---
OFTEN WHAT HAPPENS IS THAT WE NEGLECT OUR BEST CLIENTS.
---
Next, of the ten who have got the greatest potential to grow, what are you doing promote the full range of products you offer, sell, or provide?Whether that's a service, product or an expertise. Understand this, some of your clients—who are not doing more business with you—have placed you in a box, so you have to continue to re-educate them.
In the next ten, your Prospects, you have to be strategic about them. Ask yourself:
Who do I need to connect with?
Who do I need to contact on LinkedIn?
What can I send them?
What can I do to build trust, rapport and credibility so I can move them from being a prospect to conducting business with me?
Once you get a foot in the door, then your whole leg and your body you can shut the door on your competitors!
Start to think about what you can do to be proactive, progressive and productive in being able to achieve what you want as a sales professional. Reminder to download the supporting worksheet to complete this activity.
---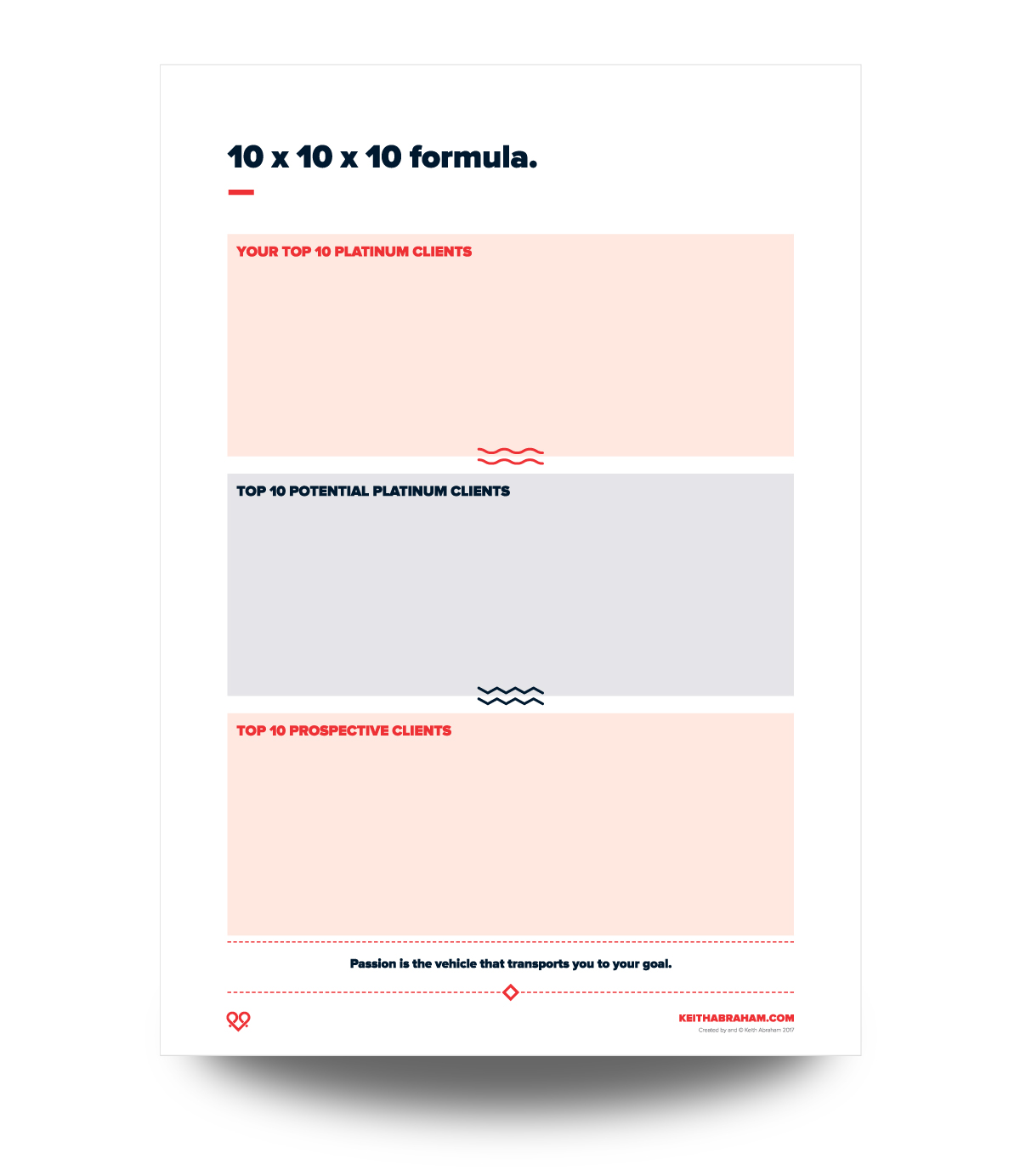 ---
Over the past 22 years I have created a series of tools, techniques and tips designed to enhance your personal leadership skills. My belief is that every one of us is a leader—and the key to personal success is leading yourself first. As you become the best version of you in certain areas of your life, you create a ripple effect that impacts all other areas of your life. Watch more in my Leadership series here.
Comments